Tooth Extraction

Wichita, KS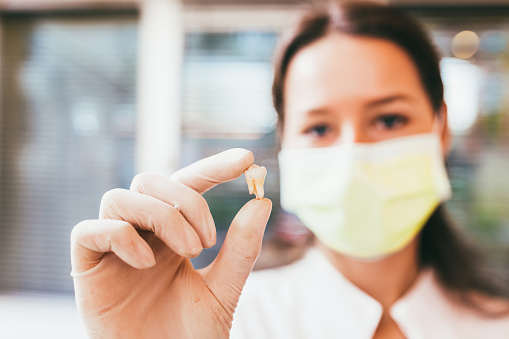 There are situations when the extraction or pulling of a tooth is necessary. At Tiny Teeth Pediatric Dentistry, our hope is to provide your child with the education to help them better understand the process and security of working in tandem with the parent to decrease their fears. Together, we can help your child have a healthier mouth that will benefit them not just in childhood, but for years to come.

The removal of a tooth may be necessary due to a number of reasons. Most often, we recommend extraction when:

| | |
| --- | --- |
| • | Prior to Orthodontic Treatment: A common practice in pediatric dentistry involves removing one or multiple teeth as recommended by an orthodontist. This is often prior to braces being placed or other orthodontic treatment begins. The orthodontist may recommend this to create space or because the treatment plan called for it, for instance if it is an extra tooth. We may be asked to apply a spacer to hold the space following removal. |
| • | An extra tooth: Though it seems unusual, it is common for patients to grow extra teeth. Having two teeth try to move into the same position can be problematic to your child's bite, one tooth often needs to be removed. |
| • | A damaged tooth: Teeth can be broken or severely damaged when engaging in sports, outdoor activities, or just from a fall or impact injury. Falls and injuries happen and teeth get broken. If the tooth is severely fractured, or broken below the gumline, we may recommend extraction. |
| • | A decayed tooth: Small amounts of decay can be removed and the tooth restored. At times, the decay can extend far enough that it is diseased beyond repair because there would be insufficient tooth structure remaining to rebuild with a dental crown. We may need to extract the tooth to improve the health of the mouth. |
| • | An impacted tooth: An impacted tooth is a tooth that is unable to fully extend and erupt from above the gumline. This is a common situation with the 3rd row of molars known as the wisdom teeth, but can occur with other teeth as well. The front eye teeth, sometimes referred to as cuspids or canine teeth, are also common targets for being impacted. Our first course of action will be an attempt to expose the tooth and help it erupt, but if the tooth is poorly positioned, this may not be an option and extraction is needed. |
Extraction Procedure

Extracting a tooth is often categorized as either non-surgical or surgical. The difference is in how the extraction occurs. A non-surgical extraction means that we were able to elevate and lift the tooth from the root and then pull the tooth with forceps. A surgical extraction is performed when the tooth is not going to come out easily because it is impacted, damaged or severely decayed. The surgical procedure involves making small cuts to the soft tissue, and sometimes removing damaged bone, to pull the tooth usually in quartered pieces. The area is then closed with sutures or stitches to assist with healing.


How Can I Help My Child Prepare?

A frequent question we get from parents is how to help their child prepare for a dental extraction. The best advice we can give is to approach the topic with calmness and without the need to express your own fears or concerns. We love our children, and of course we have feelings of worry for them in every situation, but sometimes our worry can be felt by our children increasing their anxiety. Tooth extraction in children is a different experience than for adults, their teeth are smaller and their roots are shorter. We will do our best to protect them from discomfort or pain. If you have questions, we are happy to answer them.

To learn more, give us a call at (316) 202-9629, or use our secure online appointment request form to get started with your consultation.